If your home decor needs a makeover but you don't have a lot of money or time, you've come to the correct place. To get you started, we came up with 10 home décor ideas. Your entire room may feel new, on-trend, yet timeless, and refined. You can complete each of these decorating ideas in a single day, yet the results will appear to have taken much longer.
Table of Contents
1. Set Up a Cozy Reading Spot
Is there no designated reading nook? Not a problem if you don't have any extra space in your home to convert into a reading nook, design your formal living room to double as a cozy lounge area. We carefully selected furniture with fabrics and shapes that are both sophisticated and homey, making it ideal for entertaining or unwinding alone and dwell on the beauty of your home decor.
2. Insert a Colorful Light Bulb
Swap out your standard bulb for a brighter one for an unexpected (and easy) pop of colour. It has the same effect as a neon sign without taking up any wall space. Try it in a hallway or entryway, where décor moments are limited and square footage is at a premium.
3. Introducing Florals in Bathroom to Uplift the Home Decor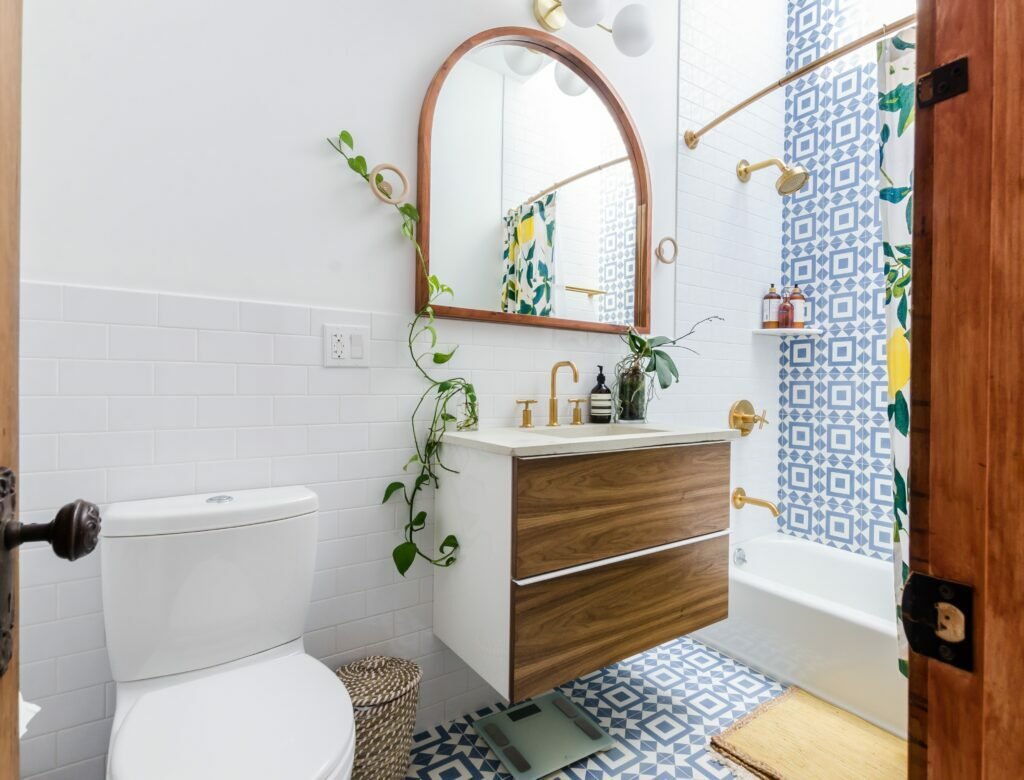 A beautiful floral arrangement can transform a room on its own. This bathroom's shapely vase, complementing artwork, and one-of-a-kind rose gold faucet don't hurt either.
4. Adding a wallpaper to the walls, please go subtle, choose pastel colors !
You're missing out on a treat if you haven't been to a wall covering retailer recently. With wallpaper's resurgence in popularity, retailers are now providing a wider variety of options. Some of these may also blow your mind with their prices.
But have courage. You can change things dramatically without covering every wall. It will be sufficient to paper just one wall, and some of those exquisite, pricey papers or textiles will become more inexpensive. Additionally, it will take less time, effort, and mess than papering a whole room. A space with plain walls, thin baseboards and window trim, and no built-ins would benefit greatly from this arrangement. Character is instantly created. Both fantastic strong choices and lovely delicate patterns are available.
5. Using Track lighting to up your Game !
With track lighting, you can brighten virtually any space and direct light precisely where you need it—on surfaces like counters, walls, or specific home decor items. The small halogen lights release a beautiful white light that brilliantly accentuates hues, up your home decor quotient now .
In recent years, track lighting prices have decreased. Additionally, many systems now use the common household voltage. Therefore, you can simply connect to any already-existing junction box in the ceiling without the need to install a transformer.
Furniture industry is already gearing up for exciting new trends that will define the way we decorate our homes in…
MORii – design.utility
MORii -design.utility , has a superb choice home décor that may brighten and enliven your living area. Whether you have a traditional or modern setting, our stylist will recommend nail your aesthetics.